Remote work, changed routine and making sure our families, friends, and communities stay healthy. None of us were ready for what came along with the pandemic. Designed with remote work in mind, our IT infrastructure, on the other hand, was.
For most of us at Adacta, switching to home office work mode consisted of relocating our hardware to another location and adjusting to a different routine. Accustomed to our IT systems always working flawlessly, most of us did not expect anything less when we moved to our home offices.
From the IT perspective, however, changing users' location matters. Pre-pandemic, our IT infrastructure supported around 300 users across 7 different locations. When everyone switched to working from home, the latter number grew by 4286% overnight. How did the IT department prepare for such a quick escalation? How did they ensure uncompromised information security? And lastly, how could a CIO take paternal leave and take care of his two kids amid all the changes and transitions?
Looking at Gašper Mozetič, our Chief Information Officer and Chief Information Security Officer, the short answer would be: easily. The longer one, however, offers something much more - a closer look at years of experience and preparation, the evolution of our IT department, and the daily joys and struggles of taking care of the little ones.
Pre-pandemic remote work readiness
"From the very beginning, we have designed our IT system to support work from anywhere - to be independent of the user's physical location. This was driven by having consultants and professional services teams work at our clients' sites and having offices at 7 different locations. Designing an IT system as if everyone always works remotely, including from home, was a key requirement.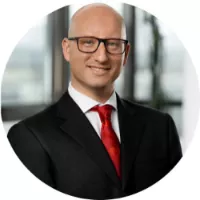 While the idea of working remotely had a major impact on the design of our IT infrastructure, the impact of COVID-19 was, however, limited as we were well prepared ahead of time.

Another important aspect of the remote-friendly infrastructure is the fact that we have migrated our most critical applications to the cloud, which includes the use of Office 365, online storage and other technologies.
Currently, the only difference for the team is that we work from home and only "see" each other through Microsoft Teams. On the other hand, remote work has been well perceived and received, especially since for a long time it has been emphasized that as long as the system engineer has access to the systems, the importance of physical location is negligible. The current situation just confirms this."
How it all began
"My journey at Adacta started almost a decade ago, with the goal of re-engineering the IT part of the company. This meant funding, technology, approach and qualified people. As our employees use many different technologies in their work, it was a great challenge finding an engineer who would have all the needed knowledge and skills and would be willing to learn.
Fortunately, Ugrin Babunski turned out to be the person we were looking for. He proved to be a top system engineer and a great person. That is how the Adacta's IT team came into being. Initially, it consisted of just Ugrin and me, but over time the team has evolved and now there are five of us working in IT and each of us makes a great contribution. I think we keep Adacta Fintech IT in top shape, which is also proven by the current situation when all our colleagues work from home."
Full transition to working from home
"The IT infrastructure is a critical part of moving work home and our readiness was considered when management required all employees to work from home. Based on our preparedness, we moved to working from home a week before the official pandemic announcement.
At the time, we had to rush to arrange laptops for employees who did not already have them and provide every employee with access to the servers and systems they needed. Given the nature of work at Adacta Fintech, there were very few requests or questions of this sort since most employees had become accustomed to occasionally completing a task or two from home even before the pandemic."
Conditio sine qua non – a high-quality internet connection
"The systems are designed to easily handle all of our users, so this is not a special problem for us. As it turns out, the biggest challenge is providing employees with a high-quality and fast internet connection. However, even such problems do not arise often. In fact, I can proudly say that the systems work flawlessly. I was very positively surprised by how easily our teams can run a major online event, such as the kick-off of a new project for a major client with more than 70 people present."
Increased security measures in the time of COVID-19
"From the security point of view, data security is at a slightly higher level for remote work than it was before when employees worked in offices.
Our network access control is much more precise and our security systems are under a much heavier load as a result.
Ensuring business continuity during unexpected events is a critical part of our information security-related policies. As regulatory requirements related to security and data protection (such as GDPR) increased the pressure on our clients over recent years, we decided to conduct a formal assessment of our approach and achieved ISO 27001 certification earlier this year."
Working from home changes operations
"The big difference in the way the IT team operates is we have more control over how we respond to requests. While at the offices, there are days with many walk-ins (our open-door policy) that are not always necessary – well, this may backfire when I am back at the office. 😊 This urgency is much easier to control when working from home or remotely. As with other teams, we saw a slight increase in our ability to concentrate.
Our workload is managed by projects or tasks (in Jira) which have to be completed, so everyone is aware and familiar with their own tasks and status. What matters is that the work is of high quality and done on time."
Kudos to the everyday heroes
"Making sure everything gets done on time can sometimes be challenging even in normal circumstances, let alone during a pandemic. While we are lucky to be working in an industry accustomed to remote work, all of us had to figure out the best way to manage our personal and professional lives.
Our roles have become much more intertwined since moving to our home offices. Some became newly appointed teachers and others might have a part-time gig as the head of house chores. These are the everyday heroes nobody talks about.
People taking care of their families while making sure they do their work and consequently supporting the front-line heroes of the COVID-19 down the line."