You may be wondering why? Remember, the prerequisite for a successful project is a strong foundation that is built during the analysis phase. Our business analyst and consultants shape the software solution with the client during their analysis consulting engagement in the pre-implementation phase and also follow each client through the actual implementation phase to assure the continuation of the solution designed in the analysis phase.
Now, our BA teams are running several full analysis projects with the clients, and they are also involved in many ongoing implementations. In addition to that, they are involved in the AdInsure product development by shaping the functionality and influencing the road-map – all of that is being done remotely. It is possible, I have interviewed the unofficial inventor of working remotely.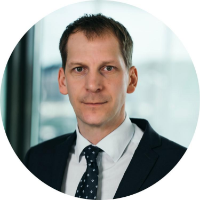 "The Business analysis department is responsible for determining the needs of our customers and bridging the gap between the pure software-development and the business value that our solutions need to deliver. Internally, in the core-product development process, the department provides the Product ownership role(s), as defined in the Scrum software development methodology. There are many dedicated product owners that, each in their respective business modules, define the requirements and drive the development of the AdInsure product."

Ivan Vidmar, Head of BA department, Adacta
How do you cope in this unprecedented situation?

I believe that entire business world is aware of the situation that has arisen from this health crisis and the pitfalls it brings to our economy. We are seeing unreduced effort from all sides, ours and our client's, and at all levels of seniority. Therefore, maintaining the commitment is pretty much straight forward – we all know that neither the cause or the solution to this crisis is not directly in our hands, in the end it is an environmental crisis, a natural disaster. But we can do our part in keeping things moving and in making sure, that the world remains as un-changed as possible when we get out of this.
We have been working from home over a month; do you work in the same way as you do when you are in the office?
I am proud to say that all the people had adapted to working from home quite well and quite quickly. Motivation is not a problem, we know what our part here is, and we are trying to do our best and to substitute that in-person element that we had in the office with drinks after work, coffee breaks and similar.
We have a great client support in these unusual circumstances. They take part in all the activities as usual. Of course, I do not have the full picture on how their regular tasks are done. But where we meet, that is the Business analysis projects; I see a lot of commitment from the client side as well.
In this work mode, we have a lack of non-verbal communication. Do you have any tricks to motivate the participants to turn their webcam on?
My personal view is that the webcam is useful and is to be used when discussing difficult and hard-to-agree-on topics. But for normal, daily conversations I leave the webcam off, that is just my preference. And as for how to motivate others to turn on their webcams– simple, by turning on your own.
According to some studies, working from home leads to greater focus for work. What is your opinion?
According to my experience, this is true – since I am able to organise my work day, to prioritise the tasks I need to do more freely, I am able to get more done in the same amount of time I spend working. But on other hand this also depends on the personal situation of each of us, or rather – the distractions you have at home.
And since we have been in this situation for some time now I am wondering how things are going to be in the long term – I am afraid that the positive momentum of this change will fade with time and I believe the office environment is still most suitable for the work we do.
What is the most important thing regarding ensuring continuity in remote work?
We are spread throughout four countries, that means four different offices and therefore the remote work was already woven into the department's fabric. The situation has changed a bit, mostly since people do not even meet within their respective offices, but in essence the business part is similar to what it was before. But on other hand, the situation brings a lot of change to each team member's personal situation. From stress and anxiety caused by the situation itself, lack of social contact, to other circumstances like babysitting their children, provisioning of food due to curfews established in some countries… So, one must account for these elements as well, things that were not present when we had our usual nine-to-five office culture.
Your secret for successful remote work is….
If I tell you, then it won't be a secret anymore :). Well, since it actually is not a secret – follow the advice given by experts, be pragmatic, keep things that work, stop doing what does not work. For example, over-communicating works, people are aware why they are receiving the same info multiple times. Be open, be communicative, and inform your colleagues as to what you are working on, so they can get involved if they think they can contribute. Let them know when you are available, so people know that they may turn to you.
How do you handle the most important project risks and what are the biggest difficulties?
This aspect has not changed that much – we, of course, have to deal with some elevated risk of absences, reduced efficiency due to work-from-home related distractions and some other similar problems on our end. The same goes for the client side of things – from availability to changed perceptions of the goals we all wish to achieve. But, on the other hand, projects are always susceptible to risks; they need to be identified, assessed and managed.
What have you learned from this continuous work from home and what do you miss the most?
The major takeaway is that we can see that the world has not stopped turning, no matter how the situation has changed 'in a day or two' and that we are all still able to function quite normally. Well, we must emphasise here that this is in large extent conditioned to the way we are able to do our business. Some other industries are not this lucky, and they are and will be experiencing the consequences that could end up being quite dire. And as to what I miss most? My office desk, co-workers, personal contact and the daily office 'routine'…