So where are AI investments paying off for insurance companies? According to the PWC report: "AI for insurers in 2021" insurers already invested in AI, are reaping the benefits. Almost two-thirds report success in using AI to create a better customer experience (CX). Nearly half say AI is helping improve decision-making. Yet many insurers who seek to deploy AI are getting stuck — usually in the same places.

Real AI applications are scattered across various small-time insurance providers and specific in-house solutions. Smaller startups have a lot of knowledge in the computer sciences, but limited domain expertise. To build an in-house solution, insurance companies aggregate and connect data sources of differing quality. 

As insurance companies make acquisitions, the data problems worsen when merging data from different providers. The main issue when building a common data source is therefore data availability and quality.
Currently, the focus of the insurance industry is moving from a data to model-based company culture. The move from data analytics to the more advanced machine learning/AI frameworks must include educating employees on using the data effectively. 
Data analytics is more commoditized, such as existing dashboard and reporting functionality. There is also an opportunity to combine reporting and visualization with AI. We could say that business intelligence is more about "keeping the lights on" and AI - driving the business forward.
Picture: Analytics in insurance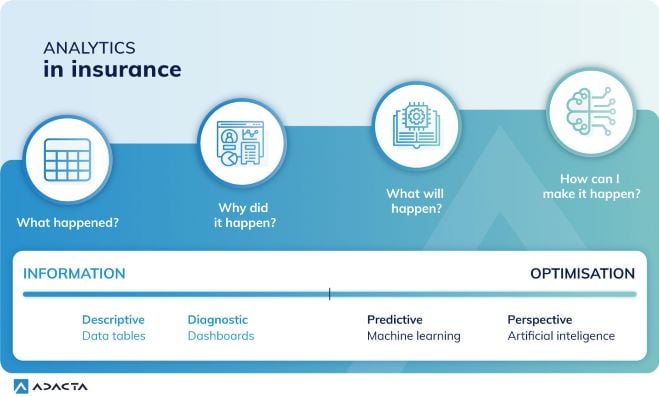 Insurance is one of the most data-intensive and data-diverse industries 
Core insurance systems are generating massive amounts of data that are not being sufficiently utilized. This data should be leveraged for automating simple/repetitive tasks or for smarter decision-making. One of the main problems insurers face today is enterprise-wide scalability when joining separate AI business users into a unified insurance landscape. 
Operationalizing newly built models is key to realizing business value, and the ability to do it at scale creates a strategic advantage. Resources are required to source data, manage models, and create real-time integration with core systems. Therefore, a DIY approach is not always the most effective. Embedding advanced analytics into the process is very difficult. 
The AI journey starts with the right data being in place 
Generated core system data is more structured and centralized than existing company data, which is generated from multiple systems. At Adacta, we're working towards a core system that understands system data, extracts it in real-time, cleanses, catalogs, and curates it for use. 
However, model results need to be integrated into the core systems with appropriate screen updates, business rules, and workflow changes to deliver value. Therefore, we are building a Insurance platform that provides the building blocks for creating an end-to-end advanced analytics solution. 
With this in mind, the insurance company doesn't have to worry about many programming languages, tools, and technologies needed to achieve this task.