Embracing Agility in Insurance Product Innovation
I noticed that many vendors and other insurance industry players have recently begun using the term Speedboat when talking about innovation. I think it is a great analogy when comparing different innovation approaches, such as tankers, aircraft carriers, or container ships.

So, let's take a look at how we at Adacta define and use the term when helping product teams and innovation teams with not only product portfolio innovation but also the innovation of operating models and business models.
Traditional Approaches in Insurance: The Tanker Model
Insurance companies have spent decades designing organizational structures to achieve goals with maximum efficiency and minimal risk. The result is stable processes that deliver business results but are also incredibly difficult to change in the face of customer and market pressures.

This makes carriers sound an awful lot like supertankers. Large and efficient ships that operate on a long-range are steady but are also notoriously hard to turn when something unpredictable happens.

Insurance executives, however, have become more aware of how important innovation is to long-term value. The COVID pandemic, for example, triggered lots of innovation. Spurred into action by the realities of lockdowns and social isolation, insurers were able to quickly implement work-from-home schemes and digital online customer experiences for customers and agents.
The Need for a Speedboat Approach to Insurance Innovation
However, these efforts were limited, and only a few were harnessed to help insurers' cross-functional teams create innovative products to improve the market share and the product portfolio.

As the old approach clearly isn't working for sustained innovation, this is where speedboats come in. In business parlance, speedboats allow fast explorations of uncharted waters and are usually run as projects. Usually managed from the top, teams working on them are frequently separated from the rest of the organization to ensure agility, a definite time frame, and a clear objective.

They are separated not only from the rigid corporate product process but also from legacy IT infrastructure- when it comes to putting these projects into practice, existing IT systems are rarely agile, flexible, versatile, intuitive, and open enough to support accelerated innovation.

Because they are smaller and easier to steer, speedboats can be deployed across different routes at the same time to ensure a more balanced innovation portfolio at the same cost. This makes them a great way to create all kinds of innovative insurance solutions, including insurance product innovation that encompasses more than just tweaking existing products or expanding insurance coverages.
Speedboats can also be leveraged to drive innovation in customer engagement, distribution, and marketing all of which deliver long-term product value. And since this is 2022, no breakthrough innovations will be created without technology.
Life insurance and P&C insurance companies can use Adacta's
AdInsure insurance platform
to power such a Speedboat to cross the barriers to innovation. They can use AdInsure to implement a standalone product innovation platform for designing, testing, and prototyping new products.
AdInsure Speedboat
feature
map
AdInsure provides all the necessary features to implement
an
innovation
speedboat without even touching
the existing legacy core
.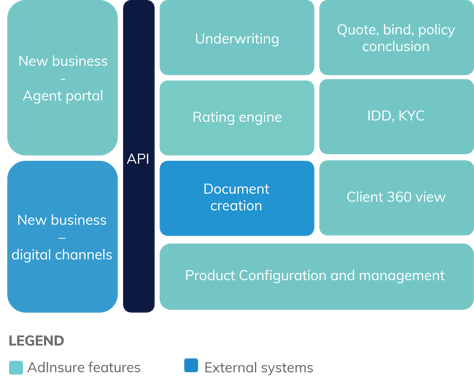 AdInsure
provides all essential features and tools needed to bring new products to market at digital speeds- low-code/no-code tools for fast product configuration, easy distribution via agent portals, and a cross-sell and up-sell integration powered by the out-of-the-box API. For the ones that need it, we can support the Claims process as well.
And it does this with minimum impact on the existing IT landscape- no legacy core changes are necessary; the AdInsure Speedboat can be implemented as a standalone piece within the IT solutions map.
The Importance of Rapid Adaptation in Insurance Product Innovation
Product innovation is among the top sources of growth for insurers. Understanding of customers' risk needs must be supported by the accelerated time-to-market ability; the ability to quickly create and redesign new risk coverages. This is the only way towards an optimized product portfolio of viable products and higher profitability. Instead of months, new products should be launched within days to implement the diversity of ideas that tap into new market opportunities.

No less important for sustained success is ecosystem integration. Once insurers are able to quickly leverage new digital distribution partners and channels, they can extend their market reach and embed their products in other digital solutions.

When it comes to speedboat type of digital innovation, AdInsure can lead the way in insurance product development. It can be deployed in parallel to the existing legacy systems and scale as the scope of products grows. It can power your digital channels and can be easily managed in a multi-cloud environment with a minimal impact on the IT architecture.

In 2022, you need digital speed to succeed in the market. This is especially true for Incumbent insurers. That means fostering a culture of innovation that needs to be empowered by the right tools. Tools that are agile, flexible, and intuitive. Tools that do not tie your hands behind your back as you steer toward the future.