Low-code is slowly but surely gaining momentum in the insurance industry, as it offers significant benefits in terms of digital transformation, improved customer and self-service experiences, and faster internal processes and operations. In this blog post, we will explore the findings of Adacta original survey, focusing specifically on the current state of low-code adoption in the insurance industry, the impact of low-code tools, trends in investments, the importance of low-code platforms for the future, and the benefits and obstacles of low-code adoption in the insurance industry.
Table of contents:
---
82% of insurance organizations operate faster due to low-code technologies and practices
Enterprise Low-Code Application Platforms are gaining widespread acceptance in the insurance sector, with a sizeable proportion of organizations already utilizing or trialing these tools. In fact, a majority of our survey participants use multiple platforms, indicating a burgeoning trend. According to a study by Gartner, low-code development is one of the most rapidly growing trends in application development and is expected to account for over 65% of application development activity by 2024.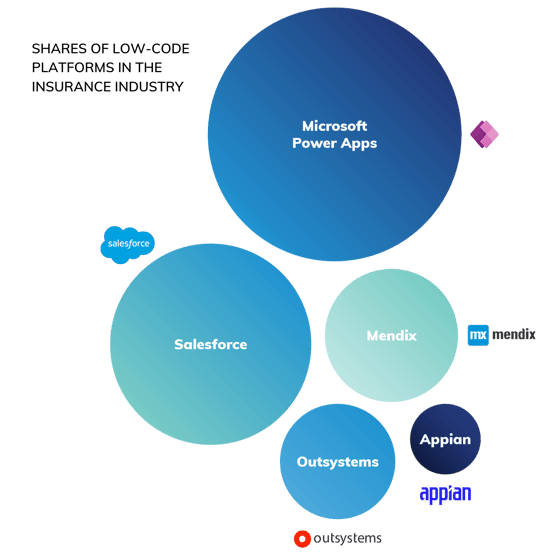 The impact of low-code tools is substantial, with a vast majority of our survey respondents reporting that their internal day-to-day business processes and operations are expedited through the use of these tools. A considerable portion of respondents estimates their operations are running by as much as 21-40% faster, with a mere 9% feeling that using low-code solutions is equal to or slower than traditional business processes. According to an article by Forbes, app integrations have proven to be a necessity for business users, making the organization operate faster and more efficiently. Specifically, low/no-code tools are predicted to not only prove as a competitive advantage, but be one of the main business application platforms in over 50% of all medium- and large-sized organizations to automate and integrate processes that were once manual.
The majority of respondents consider low-code important or very important
On average, 20% of respondents have rated the use of low-code tools as 'very important' and 55% as 'important'. Overall data showed that interviewees' responses across regions were remarkably consistent; Benelux was the only anomaly, with 73% of respondents considering low-code as important but none rating it as very important.
According to 4% of respondents in the UK and France, low-code tools are not important at all, while DACH and Benelux respondents did not share their opinion. As a Forbes article stated: ''Low-code or agile development is the need of the hour. A PwC survey found that 79% of CEOs globally are worried about the lack of talent and are finding ways to get this issue resolved. Implementing low code could help ensure that existing pools of employees are trained to cope with IT issues and development.''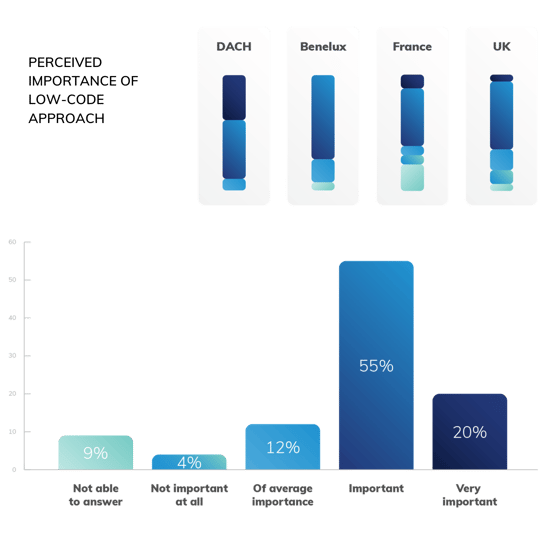 Most organizations will keep the same level of low/no-code investment, some will be investing more
As we look ahead, 14% of business users are planning to augment their investments into low-code initiatives by 21% on average. The majority of respondents (79%) said they will preserve their current level of investment.
According to Information Services Group (ISG), the low/no-code development platform market, which is still in its early stages, is valued at almost $15 billion and is projected to increase fourfold in the next five years, offer 70% cost savings and can be set up in as little as three days, compared to legacy systems modernization that may take up to two years. Similarly, Gartner (2022) also projected that "By 2025, spending on low-code development technologies is expected to grow to almost $30 billion, with a compound annual growth rate (CAGR) of 20.9% from 2020 through 2025''.
What are the benefits and obstacles of low-code software solution adoption in insurance?
The most common beneficial areas cited by respondents include faster legacy platforms modernization and enhanced self-service and customer experiences.
However, there are still challenges to low-code insurance platform adoption among insurance carriers. The most common barrier is a deficiency of support specific to the insurance industry, such as insurance-specific workflows. Furthermore, respondents regard support for ecosystem models and insure-tech integration as the areas that would benefit the least from low-code development tools.

Additional research suggests that low-code tools can also lead to increased collaboration and innovation within organizations. According to a report by Forrester (2021), low/no-code development platforms allow for faster and more efficient development processes, enabling non-technical users and business teams to create custom applications without relying on dedicated development resources. By providing a user experience-friendly, drag-and-drop interface, low-code platforms allow non-technical users to create and deploy applications with minimal technical skill or knowledge. This will democratize app development and enable citizen developers to create business-critical applications.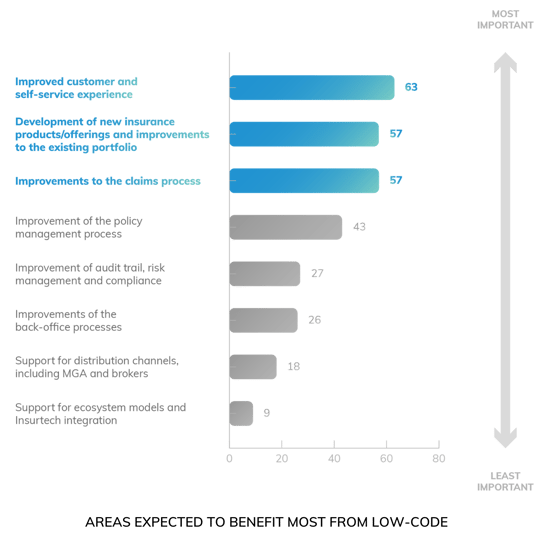 Use our low-code, standalone digital solution to meet your innovation objectives
Delivering new products to market before the competition is key. To achieve this, insurance companies need the ability to create and test innovative insurance products fast with rapid application development, be able to quickly onboard new business users, and add new digital channels.

AdInsure Speedboat provides the flexible, agile infrastructure you need to create, reconfigure, and distribute insurance products. It streamlines the product lifecycle from design to distribution, so you can launch complex applications quickly and make a splash with your customers.

Insurers can configure terms, conditions, and rating business rules for insurance products across life and non-life lines, manage the sales processes and channels, leverage up-sell and cross-sell recommendation engine, and get client insight through the 360-degree view. Insurance product teams can easily customize premium rules, processes, and UI forms per channel and make products available either through the Sales portal or through REST API integration interfaces.
While it is difficult to make precise predictions, it is clear that low-code and no-code tools have the potential to significantly change the way we build software, enabling a wider range of people to participate in the development process, moving it away from professional software developers to citizen developers.