With the increasing amount of data stored in the insurance core systems, the competitive advantage has moved from simply processing and storing data to providing it to users as efficiently and transparently as possible. Teams across insurance companies, including sales and claims services, require easy, fast, and transparent access to data. The main goal of any digital transformation initiative is to optimize processes and improve these teams' efficiency, including providing them access to information and advanced presentation of search results.
The rise of popular consumer applications and services caused that also users of business applications, systems, or platforms to become more demanding. The expectations set for insurance platforms such as AdInsure increased drastically – users requested a Google Search-like experience providing a single search field to find any info anywhere across the many platform data stores.
While sounding simple, the requirement came with numerous technical challenges that AdInsure had to overcome. However, the upside of solving it was that today, the search is a cornerstone of our Customer 360 view, allowing insurance employees to quickly find the information they need to deliver an outstanding customer experience across the customer journey and make the right business decisions.
Table of contents:
Top challenges of insurance core system search capabilities
Let's look at some of the technical requirements and constraints we needed to address as we built global search functionality for our AdInsure insurance platform.
1. The constantly increasing data volume
The insurance business relies heavily on gathering, evaluating, and managing massive volumes of data every step of the way. With expanding analytical capabilities, increased regulatory requirements, and the growing scope of the insurance business, the sheer volume of data being kept in the core insurance systems never stops growing.

2. Different types of data
The insurance business growth is tightly related to the development of new insurance products and lines of business. The product innovation created in response to the dynamic lifestyle changes (pet, mobility, cyber insurance, etc.) drives growth in the volume of data stored and also dramatically diversifies the data structure. The legacy static structures, such as a standard Insurance Policy structure, are no longer enough to hold the numerous new attributes, making searching for those attributes harder. An insurance core platform needs to provide configurable data tables and search functionality to efficiently find and extract information across these tables.
3. Security

When dealing with a large amount of data, one also has to deal with how to control access to it. While the prime requirement for an insurance core platform is to make the search efficient and easy, the security requirements come a close second. Insurers have to manage the many user roles and their access to this growing volume of data. The insurance core system must be able to restrict and track access to data to cope with the increasing regulatory demand such as GDPR.
4. Data format

Last but not least, one of the main challenges of Google Search-like functionality in an insurance platform is the data itself, which is mainly stored in a format that is not suitable for advanced search scenarios. For instance, relational databases offer full-text search but allow only one full-text index per table, and our data is scattered through multiple tables, further complicating data queries.
The Solution – AdInsure Global Search

We developed AdInsure Global search, a fast and secure search functionality across all AdInsure modules to provide insurance teams access to the data they need. AdInsure Global search, powered by the ElasticSearch search engine, was first introduced in the Parties module (the single source of truth for all client data) where a search by a part of the name or address must return all the possible matches without overloading the database. Next, we put it to work in the Insurance Sales and Policy management modules, while today, with generation three of AdInsure, all system overviews are finally using Global search.

AdInsure Global Search is fully configurable (easily adoptable without changing the AdInsure code) and can be easily adjusted (by a Business Analyst) to specific insurance firms' needs to best suit their employees' data and search habits. An insurance company can define their preferred or most commonly used search criteria, adjust the search mode and configure the presentation of the results.

Basic features of Global Search

Search in a core insurance system is by its nature different from an online search engine. There is less focus on full-text search and more emphasis on finding records using incomplete inputs. Here are some of the essential features of Global Search that make this possible:


Search by dates and number
Search by fixed values, such as type of policy or a customer tax number
Search for parts of the text that meet the following conditions:
- Starts with
- Ends with
- Contains


- Fuzzy search




- Suggestions
We have implemented Global Search in the AdInsure Parties module.
Global Search scenarios
AdInsure Global Search advantages are visible throughout all the business modules and deliver an improved user experience when employees are looking for stored records and transactions. Here are some types of information that users can look for:
Customers, services providers, agents, brokers, and other legal entities overviews
Sales quotes overview
Policies and amendments overview
Claims overviews
Legal proceedings overview
Invoices overview
Reinsurance documents overviews
…
The use cases for using Global Search can be found anywhere – from a simple call center scenario, where a customer service representative needs instant access to all data of a specific client, to complex fraud management prevention, where investigators must be able to find and recognize fraudulent activity based on what is sometimes a minimal amount of search inputs.
A peek into the call center
Let's consider the simple example of a call center agent. Like in any industry, also in insurance, the customer is king. The part of the business process that is exposed to customers most is the customer interaction with the service representatives at the call center. Customers most often contact call centers due to a claim event when they are in distress and can sometimes not provide even the most basic information, such as their insurance policy number.

It is the responsibility of the customer service agent to find the necessary data based solely on the customer's name or, in the case of a motor claim, the VIN of their vehicle. Therefore, the system must be able to take a simple search condition such as the customer's full name to display all the insurance policies linked to that customer, all previous claims, and possible contact information. With that data available, the service representative can identify the customer during the interaction and continue providing the service to the client when it needs it most.
If the customer has multiple insurance policies, the additional input of the vehicle brand can be used to filter out the list further. The call center operator has a good overview of the customer's previous claims and can quickly transfer the customer to the designated claim handler if the current request continues an existing process.

It all boils down to the call center agent's search preferences, the customer's ability to provide search inputs, and the system's data structure. All three dimensions call for a high level of configurability, where the search requirements depend on the insurance lines sold (VIN is a go-to search parameter for motor insurance, while address would be preferred in property insurance), user requirements, and last but not least, compliance requirements, which can define the minimal set of search parameters required.
Global Search capabilities are a vital part of the Customer 360-degree view and provide all the data stored in AdInsure about a particular customer in a single place.
The 360-degree view allows quick and easy access to all of the customer's documents and provides valuable data-driven insight into the nature of the business relationship with the selected customer.
Picture: AdInsure 360 - View Global Search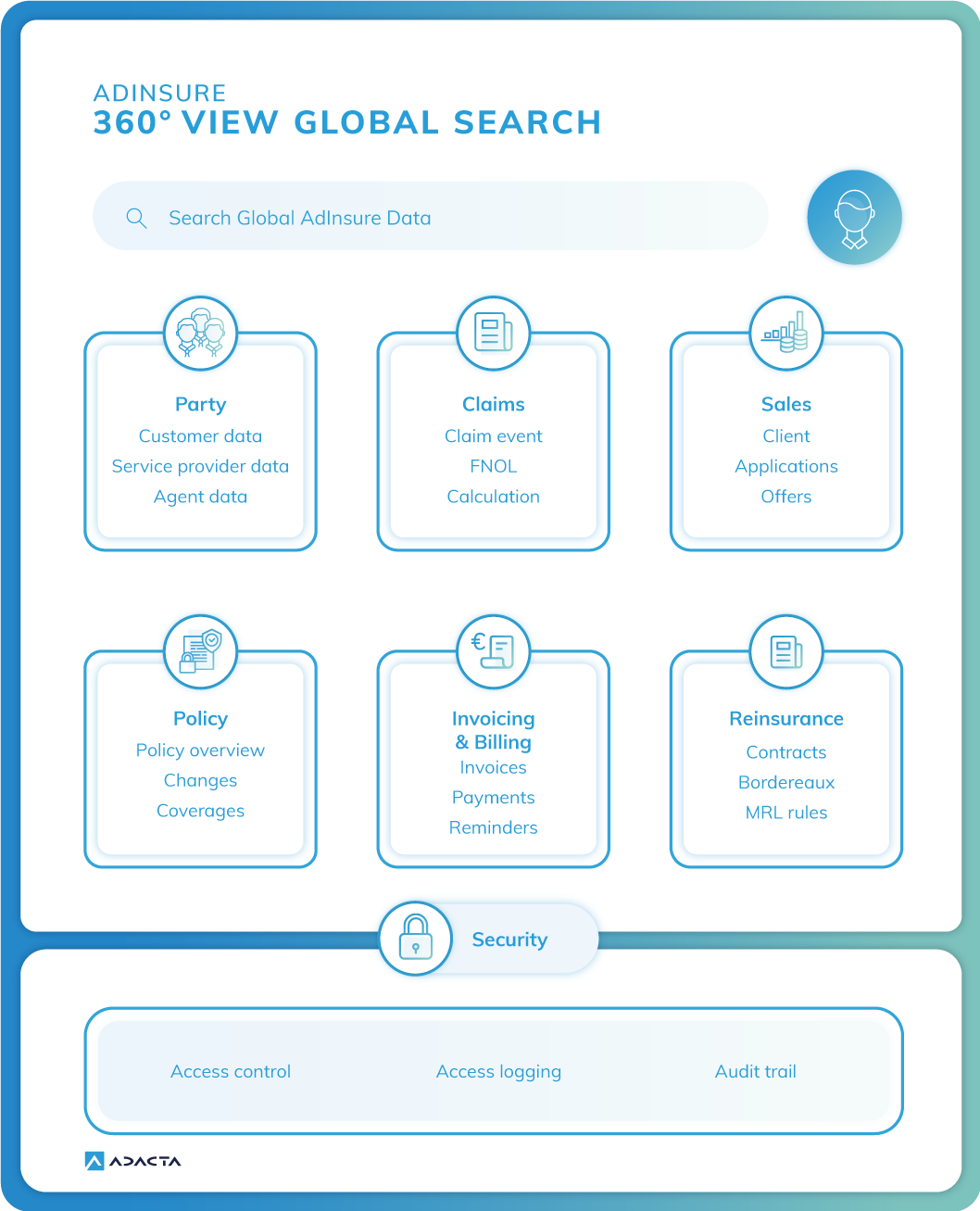 Security and Audit trail
Access control and tracking are implemented using audit trail and row-level security. An audit trail allows the system to monitor any access to data marked as sensitive, which is a common requirement when handling vast volumes of data. And since it's better to be safe than sorry, access to data can be limited. AdInsure offers fully configurable access control, starting from limiting access to entire parts of the system and continuing to restrict access to specific records. Based on any attribute in the system, for example, a VIP status of a client, the access to all of the VIP's contracts and the related documents is limited by defining the client status as a security dimension.
Conclusion
Advanced search functionality is now at the core of any quality user experience. In the deluge of data, search helps users from any team stay productive and focused on work instead of wasting precious time looking for the information they need. Global Search in AdInsure allows users to look for data across all modules and offers customizable insurance industry-focused features.

The ability to find and filter data is also a stepping stone to more advanced data usage scenarios, such as advanced analytics, and even machine learning. The success of these technologies depends on having clear and carefully curated inputs that can then be analysed or presented into intelligible dashboards that tell a story and explain your business.

AdInsure 360-view Global Search solves these issues by deploying an advanced search engine that combines search and data discovery with secure options for accessing data that ensure regulatory compliance. Try it out for yourself by contacting us.