Commercial insurance is a complex market whose success hinges on the ability to streamline and accelerate the application, quote, policy process, underwriting excellence, and adoption of new technologies that drive efficiencies and provide more effective ways of risk scoring and handling. In my experience, there are several considerations you need to keep in mind as you look for technology solutions that will support your commercial insurance business.
Table of Contents:
As we work with our clients in the commercial insurance market, we see on a daily basis that this is a part of the insurance industry quite apart from others. While personal insurance is a relatively homogenous market, commercial business is anything but. Even small companies have wildly varied risk profiles which depend on their market, industry, or location. Large enterprise accounts, on the other hand, require fully bespoke policies.
And this bespoke approach maintains a lot of focus on people and their personal decisions. While other parts of insurance are hurtling towards a more automated future, commercial insurance is still somewhat of an art.
Things are changing, though.
How does underwriting in commercial insurance work?
For example, in one of our engagements for a leader in corporate insurance, we helped them optimise and digitalise commercial property underwriting and create a simplified, more transparent underwriting workflow. When it came to creating a quote, we had to cover a few thousand attributes and support up to a few hundred different objects.
To ensure underwriting processes efficiency, we created workflows based on business rules that connect people with different underwriting levels from different teams and locations to collaborate and provide the information needed for assessing risk.
Commercial insurance is a specific industry
As we worked on this project, we realized that corporate insurance is a microcosm of its own. Underwriters need to consider everything from exposures to risk and changing threats to new business models of customers and industry trends. This also affects the culture – complex cases are underwritten by teams in which members debate and challenge each other to deliver the best underwriting results. These risks are simply too complex to be easily insured and need to be created individually based on company guidelines and individual judgment.
That is what I meant, when I said it's more of an art than a science.
However, commercial insurance risk management is not the only challenge for underwriters. There's also pricing that's shaped by input risks as well as competitive pressures and client wishes and liability limits that vary wildly between carriers. All this creates a very specific environment that can deliver great value to an insurance company if managed properly.
Another factor that comes into play are the high risk and sums insured that require sharing the risk. Coinsurance and reinsurance partners and agreements are a common theme in commercial insurance. For example, an incident like the recent Ever Given's grounding would be very hard to handle by a single insurer.
McKinsey's Journey Analysis, which looked at leading commercial-focused P&C companies over the past three decades, found that there is significant variability among top insurance companies when it comes to underwriting excellence. The study found that underwriting excellence has direct relationship to company performance. Top performers, for example, achieved 30.2-percent return on surplus, while the industry average was 11.6 percent. In these cases successful underwriting encompasses "rigorous risk selection, creative but prudent coverage design, and limits management".
This puts a lot of emphasis on the underwriting process. Companies can reap huge rewards if they get it right.
The future of underwriting is knocking on your front door
And while culture and strategy surely shape the success of commercial insurance and underwriting teams, there is another enabler – technology. In recent years, several technology trends emerged that promise to transform the practice of commercial underwriting. However, this is a traditional segment of the insurance industry that has underinvested in technology because of its lower requirements for cutting-edge technologies for delivering real-time information, digital distribution and other bells and whistles.
On the other hand, insurance platforms have made inroads in recent years and APIs are making it ever easier to integrate third-party data into the underwriting process automatically. These technologies promise to deliver fully digitized workflows that support the entire process and make underwriters more productive and creative, freeing them from the drudgery of manually entering data.
Software platforms can deliver on this process by providing support for multiple underwriting levels, automated generation of constraints based on pre-configured business rules, confirmation or rejection of quotes and counteroffers.
Then there's also the explosion of technologies, like the Internet of things that delivers new value from additional data that may allow underwriters to tailor prices, mitigate risk of loss and help owners proactively address threats to their property. For example, smart buildings equipped with sensors can help predict and mitigate risks with predictive maintenance. Another very useful technology are drones that can be used to inspect large commercial facilities that would be impractical to inspect in person. Also, more data means more accurate pricing with lower underwriting costs.
5 key areas to look for in a new IT solution
These technology trends show that there is definite value in investments in technology. If commercial insurance wants to be the business driver in the coming years, companies will need to put money into replacing legacy systems that increasingly hold back growth.
Traditionally, commercial underwriting is human resource-intensive, so any investments that drive productivity will result in growth. Also, legacy systems do not support the advanced technologies that have exploded in popularity over the past couple of years. To miss this opportunity would result in a failure to capture a growing market opportunity.
However, any technology investments need to be well thought out. Here are 5 key areas, where technology can deliver tangible results today.
1. Support for the complexity and variety of commercial insurance products
A modern platform will provide comprehensive support for various commercial product lines, ranging from commercial auto and property insurance to agriculture, wholesale and manufacturing.
The platform should support the whole lifecycle of a commercial product, from tools for easy product design that also include processes such as application, quote, bind, and policies to claims and reinsurance.
The focus here is flexibility as carriers need support for complex policies such as fleet-group policies with coverage for a large number of different objects and complex commercial property products that include all types of properties – from small objects to a cosmodrome. A flexible platform should also enable carriers to serve companies of any size and industry and include support for insurers' international programs, empowering them to perform business across borders.
READ MORE ON ADINSURE FOR COMMERCIAL INSURANCE
2. Support for complex underwriting processes
Due to product complexity, commercial insurance underwriting processes can be very complex, spanning multiple teams. A modern system should provide the ability to adjust the underwriting process for each line of business or even for each insurance product separately, so that risks to be insured are assessed appropriately. Complex products also require you to assign tasks to your teams across sales, underwriters, and other specialists to streamline the process based on your own business rules.
A modern platform will help your underwriters with an overview and control over the process for each quote or policy. It will provide the data they need to make decisions, including a comprehensive 360-degree view and integrations with different 3rd party data providers to improve risk assessment.
You should also look for support as you automate the process as much as possible in complex businesses such as commercial insurance. Features that allow this are workflow and business rule capabilities for automated generation of constraints, confirmation or rejection of quotes, assessment of risk based on 3rd party data and more.
For example, our AdInsure platform handles the underwriting process through underwriting constraints, which are defined as business rules at the product level. If a quote prepared by an agent triggers the constraint, it must be submitted to the underwriter who can accept or reject it or escalates it to a more senior underwriter. These processes are automated and based on workflows, specified for each individual product.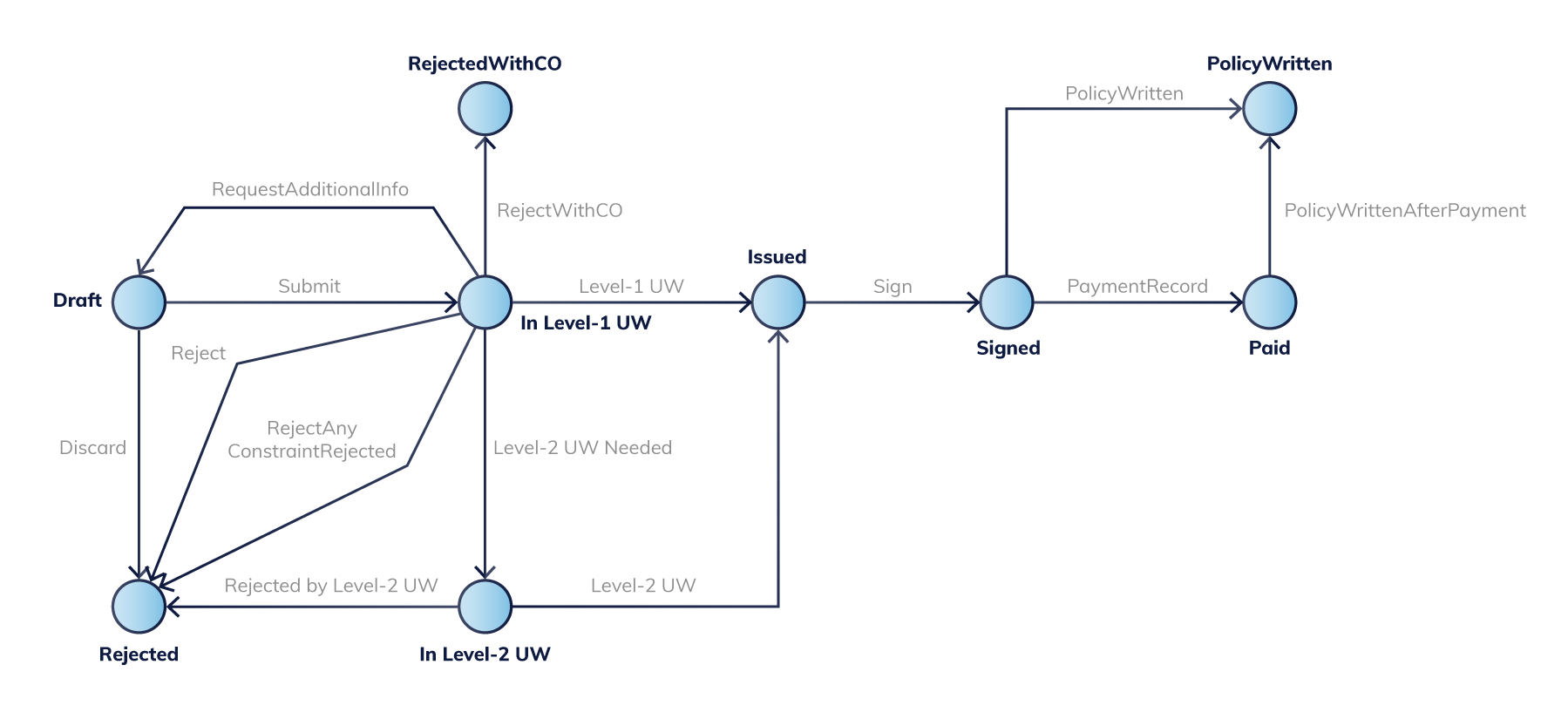 Picture: Quote workflow with several underwriting levels
3. Support for distribution channels and collaboration
As mentioned above, there are already efforts in commercial insurance to automate the process and offer it as a product that is easy to buy online or elsewhere. However, commercial insurance remains a complex process that needs custom solutions tailored to each individual customer.
A comprehensive solution will provide sales-focused productivity tools such as sale agent portals that support easy collaboration between agents and underwriters.
AdInsure Sales Portal is an end-to-end experience for agents that integrates business processes and products as well as communication (video chat) capabilities and information on clients. As they speak to commercial clients, agents have access to all workflows for quotes and policies they can easily share with clients, and your underwriter.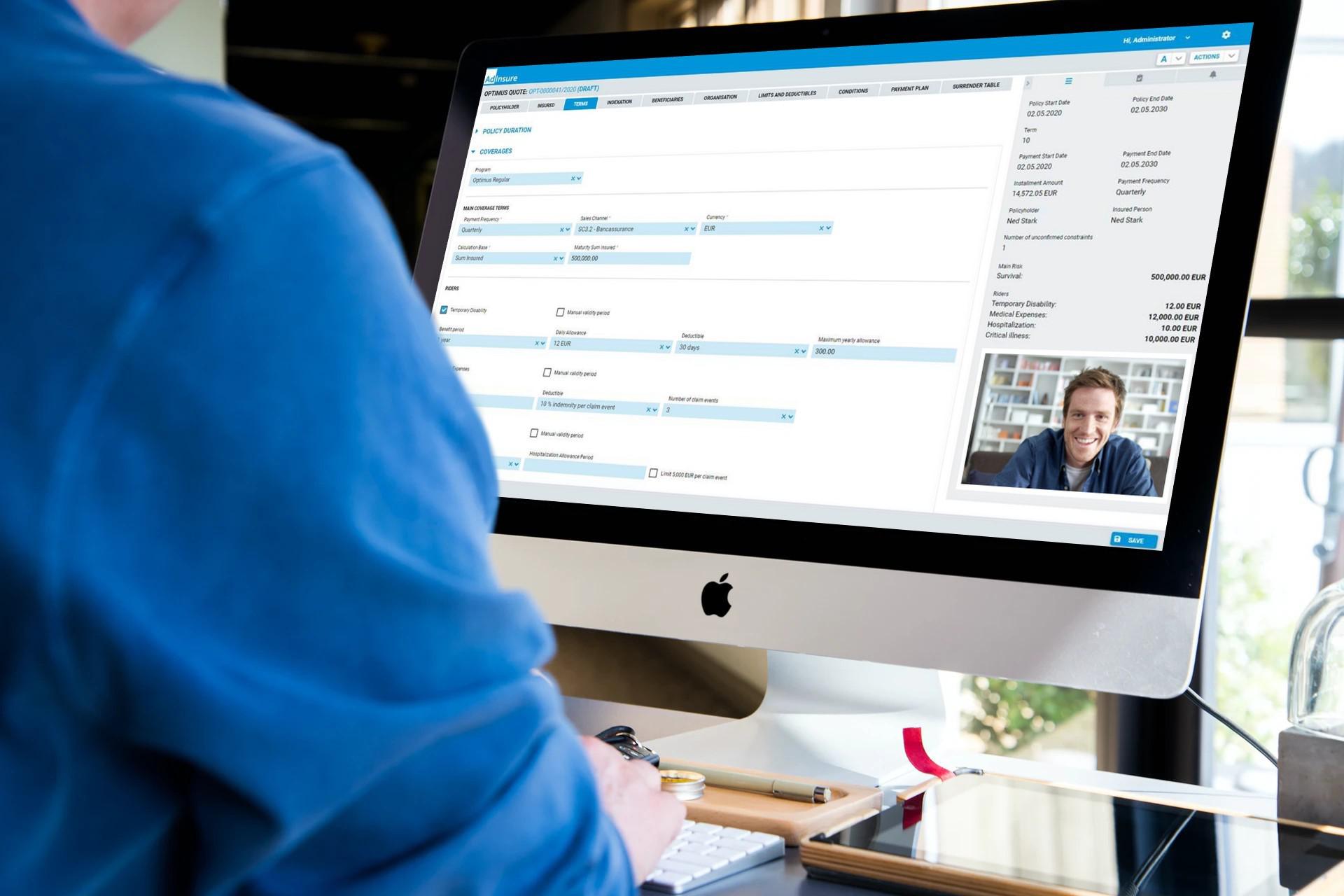 4. Included support for back-office teams
Not every vendor offers these features, but you should look for capabilities for recording and managing the entire process from FNOL to the final settlement. Reinsurance management is another area, where you can find value. You need support for proportional, facultative and coinsurance contracts as well as bordereaux management. Other back-office features include risk identification and allocation and calculation and settlement of premiums and settlements.
5. Easy integration with external data and models
This is a key requirement in the sales and underwriting process. Some solutions still rely heavily on manual requests for external data, while others use business rules to automatically fetch and fill in data. This is an area with major opportunities to save time and effort.
AdInsure offers a combination of tools that makes it straightforward to include external data into risk analysis and decision making to improve the business. It starts with a modern integration framework that can integrate any external source and builds upon that with a flexible process workflow and business rules that can leverage this external data for making smarter decisions.
AdInsure helps you
We understand the commercial insurance market. We have recently worked with a leading commercial insurer that provides comprehensive coverage for enterprises in the oil and gas sector, energy, nuclear industry, metallurgy, aerospace industry, water and rail transport, the military-industrial complex, agriculture, construction industry, and non-industrial facilities.
Despite their leading position, the company launched a digital transformation initiative that would overhaul their commercial property underwriting process. The main goal was to streamline and speed up the application, quote, policy conclusion, and underwriting processes. The quotation part covers so many moving parts that it requires dozens of people from a different team to work on it.
AdInsure's advantage is that it delivers powerful workflows with built-in business rules and dynamic document management capabilities that bring together regions, people and information needed to get the work done completely and correctly through the entire process. These workflows are fully transparent and ensure complete accountability between people, offices and geographies. They are coupled with advanced reporting capabilities to ensure the process is well managed.
Final thoughts
Commercial insurance is a complex industry, where operational excellence can make the difference between success and failure. To succeed, you really need to focus on a range of processes, although underwriting is one area where you can achieve substantial gains. Pair this with emergent new technologies, such as the Internet of Things and AI and you are looking at new ways to approach risk assessment.
However, many legacy platforms are no longer keeping up with innovations to open up a gap between current insurers' capabilities and new opportunities. To bridge this gap, you should look at insurance software systems that deliver the flexibility and depth of features to support your commercial insurance business.