Insurance brokers are an essential part of the insurance industry, and their share in insurance premiums is significant. In Europe, insurance sold by brokers represents around 19% on average, but this rate can be as high as 80% for selected lines of insurance. Yet, they face several challenges that make it difficult to operate their business successfully. These include issues such as complex regulation, customer expectations, and digitalization. The following blog post will highlight these challenges and how software can address them by providing tools for insurance brokers to run their businesses more effectively.
Table of Contents:
The primary role of an insurance broker is to act as their client's advocate and find suitable insurance policies for their clients, negotiate on their behalf and arrange cover at a competitive rate. This requires an extensive knowledge of the products and services offered by different insurance companies making them better equipped than insurance agents when it comes to advising their customers.
Insurance brokers have a long history. The first mention of an insurance broker in the UK dates as early back as 1762, when they were called "underwriter agents" and provided insurance coverage for ships that would travel overseas. In the intervening centuries, their role has evolved and grew in importance with some brokers even acting as underwriters.
Over the past two decades, the role of brokers has evolved. While brokers used to act as individual workers, broker groups such as MARSH, AON, and WTW have grown into some of the insurance industry's largest players. Also, technology had a significant impact on the evolution of the brokerage model. Aggregation services are a great example of how digitalization has changed the industry. Aggregators are online insurance brokerages that connect insurance providers and customers, offer a wide range of products, and allow customers to negotiate the price by themselves. They rapidly transformed the brokerage industry, and some estimates show that almost half of all online insurance is sold through aggregators.
Insurance brokers play an extremely important role in the insurance industry
Let's look at the top reasons why insurance brokers are so vital to the industry.
Brokers are an important revenue driver for the industry


Insurance brokers are among the most important distribution channels and generate significant revenue for insurance companies.
In Europe, for example, insurance brokers have brokered insurance policies worth around $800 billion in 2017, and insurance premiums reached $875 billion in 2020

. It's no wonder that insurance companies rely heavily on them to grow their business and increase sales.

Brokers are customer advocates and expert advisors
The broker's primary duty is to the client, which is fertile ground for long-term relationships. They play an important role in advising about existing and future risks and the best insurance covers provided by different insurers. They often work with risk assessment managers to prioritize clients' risks and determine which are insurable.
Brokers work with multiple insurance companies, providing their clients with access to a larger pool of insurance products. They help them save time and money because they know insurance products inside out, so clients can be sure that their insurance broker will find them the best solution available in terms of price, coverage, and service.
In short, they help their clients find the best fit for the best price.
Brokers create a feedback loop and improve customer satisfaction
Insurers also find insurance brokers invaluable, and it's about more than just revenue generation. Insurance brokers can provide helpful feedback about market needs that helps insurers respond and design attractive new products that drive adoption.
Customer satisfaction is also an aspect that heavily involves brokers. Their insight into their clients' needs can cut through complex products and guide them towards the most suitable products. This results in improved customer satisfaction because brokers are always driven by their client's needs, focusing on long-term relationships rather than short-term profits.
Insurance brokers provide a wide range of services to buyers and are involved at every step of the journey
With their in-depth knowledge of the industry and the client, brokers are involved at every step of the insurance processes. in addition to advising on the needs and best-fit products, they assist with claims handling and generally streamline transactions between policyholders and insurance companies from insurance sales, across insurance claims to insurance renewal.
Top challenges facing insurance brokers in Europe
With the rise of technology and shifting customer demands, insurance brokers wanting to stay relevant need to constantly adapt and reinvent their strategies to help them achieve growth and profitability.
Brokers are facing several persistent and emerging challenges:
Shifting customer expectations


Insurance customers' requirements and demands have changed considerably over recent years. They want more information about insurance products than ever before to make an informed decision on the best insurance product for them. The offering needs to be personalized, delivered through their preferred channel (digital, in-person, sales partner), and fast.


Failing to live up to these expectations will increasingly result in lost business.
Complex regulatory requirements


Regulatory constraints and changes are a fact of life in the insurance industry, and brokers are no exception. The dynamic environment has seen new regulations regarding personal data protection, sales standards, and solvency requirements. Keeping up with different regulatory requirements in different countries can be a challenge for brokers unfamiliar with the regulations in different countries.

Technology shift
There is no doubt that the industry is under pressure from digitalization. Insurers need insurance brokers who understand technology to use it as an asset for their insurance company. They need to be able to offer insurance products through digital channels and have a good understanding of how technology can help insurance companies grow.
Workflow and process efficiency
The business world is changing fast, but the nature and the way insurance brokers work haven't changed. As technology improves more than ever before, it's important for them to evaluate their processes if they want to find success in an increasingly competitive market where slow growth projections are predicted.
For example, operational gaps and undefined sales processes can drag down the entire business. Successful brokers need to optimize their workflows to keep up with the sales demands and serve their customers. An effective pipeline management process delivers tangible benefits - a recent study by VPP shows that companies who employ an effective pipeline management process were able to see 18% revenue growth – while those without show only 12%.
The insurance broker of 2022
Now, let's look at how the insurance brokering business is evolving in response to the challenges described above. Here are some of the characteristics shared by insurance broker who want success and growth in 2022:
Speed has become crucial for modern customers, who prioritize excellent service and dislike waiting for anything, including insurance quotes and policies. Insurance brokers need to provide digital solutions that offer insurance advice and empower insurance buyers to make the right decisions quickly. For example, digital quotes and digital policy documents allow customers to sign them electronically and conclude business faster.
Customers are much better informed than in the past. This is a great opportunity since insurance brokers can bring their specific industry expertise to the table and recommend suitable products by various insurers that reflect actual risks. Well-informed customers also mean that brokers can provide much more detailed information and help their clients make better decisions that result in improved satisfaction.
Growth often comes from complementary services and not just from growing the core business. No longer constrained to just brokerage services, insurance brokers now deliver additional value-added services, such as claims processing, risk management, or underwriting.
Digital transformation should be at the top of the agenda. The failure to automate time-consuming processes insurance means falling behind and relying on manual processes reduces brokers' competitive position and customer satisfaction.
Insurance brokers will need new skills such as digital literacy and industry-specific information to advise customers about suitable insurance products from a range of insurers offering different policies. Brokers can leverage artificial intelligence and big data to deliver improved experiences and help their customers better manage risks.
How software can help insurance brokers today
Insurance brokers must provide a personalized, helpful and high-value experience to each of their clients while also asserting their added value by assisting customers in fulfilling certain financial obligations and overall financial well-being.
To meet the challenges, the insurance broker of 2022 must use technology to improve their business operations and efficiently provide insurance products and insurance services to their customers. Technology plays an increasingly prominent role, and brokers are now expected to be fully digital businesses relying on insurance software solutions to deliver the following services and functionalities.
Digital processes for customer onboarding
To streamline onboarding, software can be used to run digital KYC (Know Your Customer) processes. Some of the features delivered may include a user-friendly online application which is completed digitally and accelerates the process of delivering insurance quotes. This allows brokers to get to know their customers better and pave the way for long-term relationships.
Real-time insurance quotes and digital insurance policies
Customers today require quick access to information and they are not prepared to wait for days for offers. By using software, brokers can aggregate and update the information provided by insurance companies to deliver the information that buyers are looking for. Digital insurance policies that can be signed electronically are another way to streamline the process. All of this means less time spent on collecting data and more on nurturing relationships with customers.
Collaboration tools
Especially when it comes to complex insurance policies and insurance contracts, insurance brokers need powerful and effective collaboration tools that allow them to work with other team members, clients, and insurers throughout the entire insurance process. Advanced features such as video chat or the ability to communicate by adding comments directly to an application quote or policy documents also make collaboration easier and more intuitive.
Online quote comparison tools
Online offer comparison tools have evolved from simple comparisons into platforms with advanced broker functionalities. Users can compare all the inputs from the offers received from insurers and also modify specific conditions and clauses such as risk share or leading/participating insurer if allowed by insurers. Tools like this are easy to integrate with insurers' software and provide real-time feedback if an offer was accepted or rejected or when users need additional information.
Claims management with automated claims processing
The traditional role of brokers is changing and they need to serve the entire customer lifecycle – from sales through claims management and risk advisory. Modern modular software can help them add these services to their offering easily and simply without having to rip out and replace their existing solutions.
Tools to attract new customers and help them retain existing ones
Digitalization means that it is easier than ever to reach new customers. Digital marketing tools help insurance brokers attract new clients and retain their existing customer base by offering them better customer service. Brokers can also share relevant information with them using e-mail newsletters, mobile apps or social media channels, delivering more added value.
Business intelligence tools
To get ahead of the competition, you need to understand customer behaviour and market trends. A wealth of data is available – from IoT sensors to customer behaviour patterns – that can be leveraged through advanced data analysis.
Looking towards 2040 – insurance brokers of the future
The next 20 years will see even more change in the insurance brokerage industry. Here are some predictions of how the trends of today will play out in the future.
Insurance brokers are not going anywhere anytime soon
Brokers will continue to be a central part of insurance distribution and insurance companies will continue outsourcing insurance distribution and processing activities to them instead of building their direct insurance distribution system.
The role of technology in insurance brokerage will continue to grow
Insurance distribution will be heavily dependent on technology. It will drive business operations optimization and make customer interaction much more efficient. Insurance companies and brokers will be increasingly more interconnected to be able to deliver real-time information and conclude policies and contracts online.
We will see convergence between insurance distribution and big tech
This is a trend that is playing out today. Amazon is offering its insurance broker service in the UK, and we will see more big tech companies market their insurance distribution services to insurance companies. This could give a rise to ecosystems that couple big tech digital capabilities and insurance brokers industry knowledge to create powerful insurance brokerage platforms.
Picture: Insurance platform AdInsure supports the brokerage processes and operations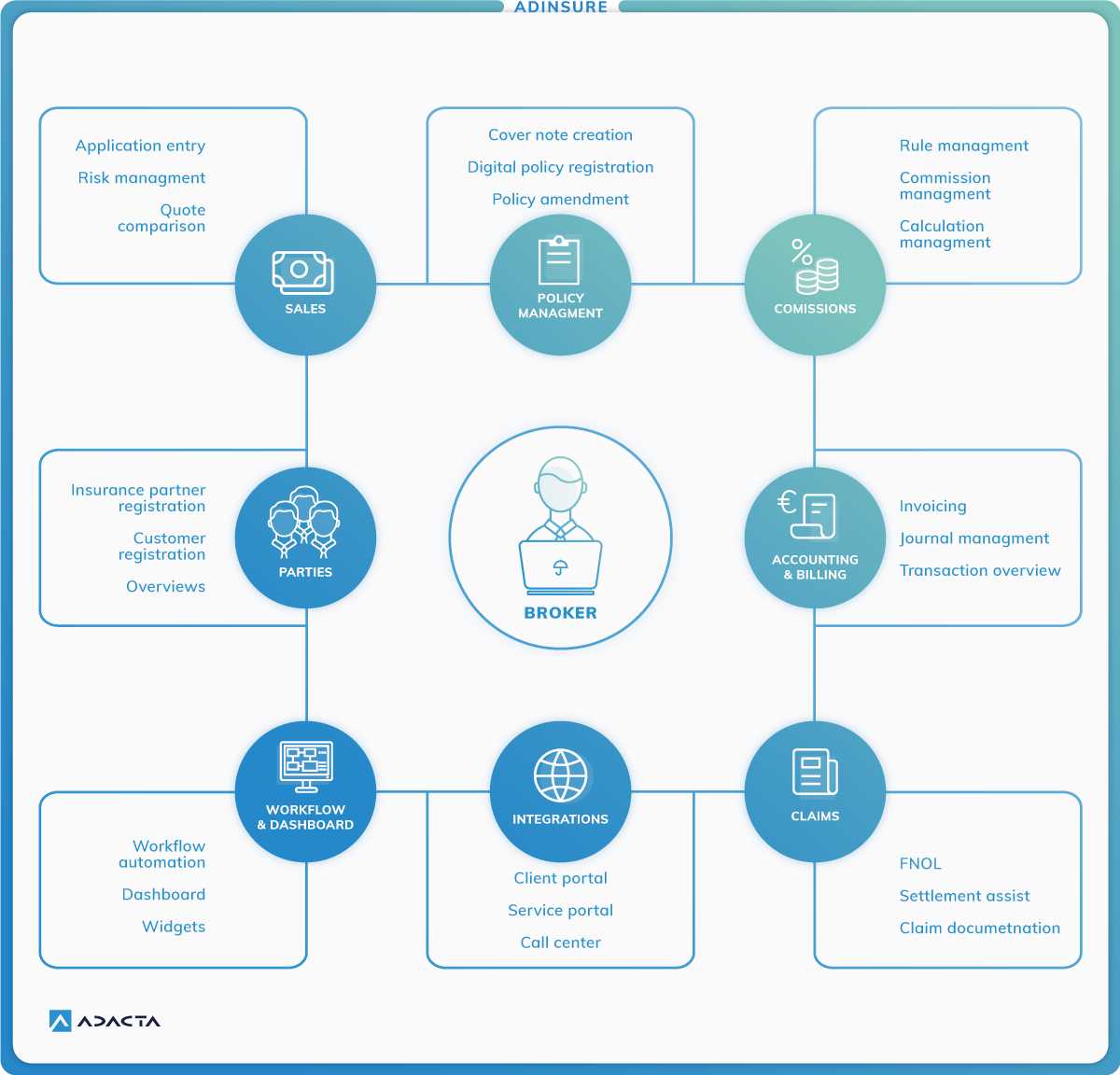 Conclusion
Insurance brokers are facing an increasingly challenging environment. Their industry and customers are changing along with increased competitive pressures from big tech companies and Fintech companies. Transactional roles will simply not guarantee growth and success. Instead, insurance brokers need to play to their strengths and becoming trusted advisors that deliver a superior customer experience.
Technology will play a core role in this process. While more and more customers are ready to buy standard insurance products online and expect fast and sometimes contactless service, brokers can advise them about their risks and then help them locate the right products. To do this, they need to focus on creating attractive digital experiences that create customer loyalty and drive satisfaction.
Technology will also drive operational efficiencies and automate the processes that communicate information between the client and insurance companies. The focus here should be on delivering data in real-time and fostering rich collaboration through documents, video or chat that will help customers address their needs in the most efficient way possible.
Insurance brokers are looking at a bright future if they adapt to the changing landscape. Digital transformation should truly be the top priority. Without it, the knowledge, the regulatory know-how and customer relationships will not count for much as customers shift to more agile start-ups and big tech competitors that deliver a better experience and more value.