Core systems keep insurance companies running, humming quietly in the background, processing transactions, and ensuring everything is recorded. Most core systems are proprietary platforms, developed and deployed years or even decades ago, that have been updated and extended to reflect the changing needs. This makes them reliable but also challenging and expensive to manage or change.
The reluctance to replace their core systems results in the insurance company's low digital maturity, which scored only 47 out of 100 in a recent BCG survey.
Core systems with few modernization options are a key factor in this – outdated legacy systems are shackling companies down and stopping them from building competitive advantages and delivering on customer expectations. The market is shifting, and consumers and Insurtechs are sending a clear signal: convenience, speed, connected ecosystems, and digital experiences rule the market.
The trend toward standardized core technologies
In the past decade, insurers increasingly opted for standard off-the-shelf core systems that promise relief from maintaining and developing custom-built legacy systems. However, these systems could pose another trap – reducing insurers' self-sufficiency and independence. Relying on the vendor for every little change is the recipe for reduced agility and flexibility. Migration from Legacy Systems ended up with as just another legacy solution.
Modern insurance platforms have emerged to address these issues. These solutions are based on best practices that reduce the risks of implementation. At the same time, they are also configurable by the client so they can cover emerging needs while also delivering the flexibility, agility, and scalability required to move into new markets and reduce operational costs.

Expanding into new markets, in particular, is something that's easier to do with a standard system as insurers can leverage core capabilities to speed up the development and testing of new modules.
Another benefit of modern platforms is that they include many more features than traditional core systems. By integrating features such as BI, workflow management and BPM, online portals, and others, it is much easier to digitalize operations and focus on creating new products.
Standard software also comes with regular updates and consistently updated regulatory compliance, reducing the ever-growing compliance risk. Organizations need to comply with stringent Know Your Customer (KYC) standards, personal data privacy requirements, and anti-money laundering (AML) regulations. It is almost impossible to achieve these goals effectively and proactively without a modern, regularly updated standard software solution.

Standard systems are becoming very popular. McKinsey's study found that nine of the top 12 US P&C insurers use standard software. Data shows that 75% of leading insurers in North America, CEE, the Nordics, and the UK choose standard software for claims and policy administration.
Look beyond the core – consider business objectives and outcomes
Replacing the core insurance system is a daunting prospect. It is complex, impacts most of the company, and takes a long time. Another significant factor is that most CIOs and other people working in insurance IT departments usually do not have extensive experience with core system replacements.

Remember, it only usually happens once every decade or more.

So, this high-risk and complex project is something that's needed if insurers want to fend off competitors and grow. How should they go about it?

Looking beyond the core in practical terms means two things.

First, make a good business case by aligning technology investment and business goals. Due to the complexity and cost associated, building the case on technology only will not do it. Look at the business and identify the desired outcomes. Pain points should guide objectives and help determine the planned impact of a potential new solution. Of course, all this should happen in the context of the strategic direction and future growth of the company.

Replacing a legacy system should not be replacing existing core insurance functionality and not just a technology decision. It is a business transformation project. Your strategy and vision shape your business goals as the final destination for this project. This means the next step is getting senior leadership buy-in and here are some of the points you should focus on when looking for a new solution.
Cost of ownership: a McKinsey study found that IT costs per policy can be 41% higher on legacy platforms. Look closely at how a new insurance platform could help you cut the total costs of your IT infrastructure.
Increased productivity: one of our clients used AdInsure to digitalize the claims and policy management processes and boosted average Claims settlement productivity by 112%. Look for digital technology that can help you automate processes to improve productivity.
Technology consolidation: identify opportunities to simplify the existing IT landscape and reduce operating costs. Instead of relying on a multitude of poorly integrated piecemeal solutions, look at platforms that bundle multiple functionalities, such as core, BI, and portals.
Regulatory risk minimization: Compliance requirements are increasing and keeping up is becoming increasingly difficult. Look for ways to include regulatory compliance into your core business logic and technology infrastructure.
Improved agility and innovation: new risk coverage, ecosystems, and integration with Insurtech and distribution channels top the lists when it comes to new business models. Look for open, modern technology, that will help you integrate partners to transform your processes and models.
Improved service for customers and business partners: ease of doing business will improve partner and customer satisfaction. Leverage tech that makes it easy to expose the insurance value chain to clients and partners, including customer self-service and partner integration.
Accelerated time-to-market: becoming fast at everything should not be only a wish; new lines of products, new partnerships, cross legislation operations. Look for solutions that embed this into their design and provide a roadmap for business and IT operations teams to make this happen.
Look beyond the core - go for rich features for your business and IT teams
Once you've built the business case, it is time to look at solutions. To find the right one, you need to understand the features and capabilities of modern standard insurance platforms; what parts of the insurance value chain they cover. To understand what the market offers, vendors can be of great help. They have experience with the future direction of technology and they are talking to a wider market, giving them a broader understanding of trends.

Vendors also run real-life projects and operations, talk to market analysts, and last but not least, they are investing heavily in the tech that they think is the future of insurance. When it comes to technology, vendors are a treasure trove of useful information you can use to map your way forward.

Once you have a firm framework of what's possible, start looking at what you actually need.

A traditional core system in insurance essentially covers Policy Administration System (PAS), claims, and billing. However, insurers increasingly feel pain in other areas, including CRM, B2B, and B2C portals, and business intelligence.

Look at the image below to see what a modern insurance platform contains compared to a traditional core system: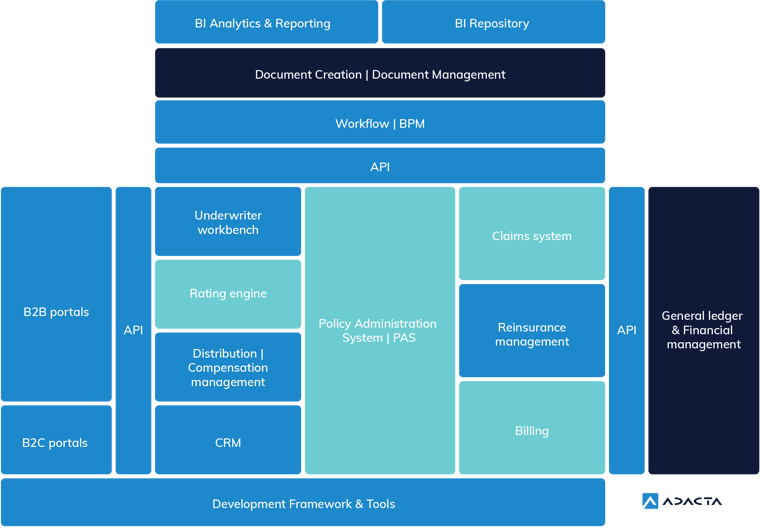 You should look at your entire solution ecosystem and see whether improved integration will benefit you. For example, instead of wasting resources on securely opening your data or manually exporting it for a B2B portal, you could just rely on an integrated API functionality that exposes your data in a secure manner.

For example, when it comes to insurers looking to improve their customer experience, our AdInsure solution supports multichannel operations and can be easily integrated with portals, mobile applications, and chatbots. At the same time, it can provide a Client 360-degree view and provide complimentary CRM features.

In short, a modern integrated platform can replace many of your existing separate solutions to deliver new functionalities as you reduce complexity and costs. You should also look at new features in light of your business strategy. Are you looking to expand your offering to account for emerging risks? Then you definitely need a platform that allows you to create new products quickly. Do you want to distribute your products more broadly? Then you should be looking for API functionalities that support ecosystem integration.
Look beyond the core – consider modern architectures that power future-proof capabilities
After you have identified the features you want in your new insurance platform, start evaluating technology aspects. Here are some of the factors you should look for in a digital platform:
Cloud support: A solution should provide a roadmap for cloud migration and leverage the advantage of Cloud. Cloud deployments allow vendors to update and upgrade the solution easily while providing you the flexibility of anywhere and anytime access.
API-first design philosophy: APIs are at the heart of modern insurance. If you want to integrate with insurtechs, distributors, partners or anyone, you need APIs that expose your data and functionalities simply and securely.
Automation: Modern platforms can leverage artificial intelligence, machine learning and other technologies to offer automation support for processes such as underwriting and claims management.
Low-code support: Low-code and no-code principles mean that for example your product team (business and technical users) can create or modify products without IT interventions using intuitive visual drag-and-drop tools.
Core features: Of course, any new solution should cover all your needs when it comes to the core system.
Modular decoupled architecture: This approach to architecture breaks up a solution into independent, loosely-coupled, individually deployable services to accelerate implementation.
Configurable and reusable product development. High degree of support for product innovation to cover new risks and expand markets and distribution channels.
True multiline support. If you run multiple lines of business, consider a strong consolidation potential of a multiline platform. If you do not need it now, you may need it in the future.
Multi-channel support. A modern platform must support easy migration of users between channels via a modern rating engine, open APIs, and digital tools.
Start with the big picture
Replacing your core system might be a risky undertaking that is nevertheless needed for any insurer looking to stay competitive in the rapidly shifting market. Legacy applications, manual processes, outdated technologies, and mainframe systems, should be a thing of the past for modern digital insurers.

The path to Business growth via technology transformation doesn't have to be all risk, though. What is needed is a planned and considered approach that starts with identifying your pain points and overall business strategy and continues with evaluating the possibilities the modern solutions offer.

Standard insurance platforms are not only faster and easier to deploy, but they provide more functionalities than traditional core systems, facilitate things like compliance and multiline operations, and are well equipped for the future. This makes them a popular choice for companies looking to reduce their costs as well as open their operations to integration through APIs and other technologies.

Are you ready for your company's digital transformation journey?