The digital transformation of insurance business drives the need to replace legacy IT systems. While many industries have embraced standard software packages over the past decade, the adoption of standardized software was much slower in the insurance industry which continues to rely heavily on proprietary systems. But not for much longer.
Standard software ranks high on insurance CIOs' agendas
Over the last three years, we've spoken to many C-level executives responsible for the digital transformation of their companies. One of the changes we noticed was their interest in industry best practices they could implement as part of their modernization initiatives. The key thing we've learned was that these organizations are willing to adapt their processes, provided that out-of-the-box insurance software delivers clear benefits — faster implementation time and lower maintenance cost.
The changing role of IT providers
As the attitude towards the insurance software changed, so did the role of IT providers. Once the tailors of products and processes, IT providers evolved from a good listener to a trusted advisor during the project scoping phase and from a custom solution provider to a Partner that provides industry best practices through software.
One of the factors that helped shift this attitude is the emergence of more uniform core systems and platforms. Standardization also became one of the main guidelines we have set for ourselves as we work on the new generation of our AdInsure platform.
What is standard software?
The term applies to systems that cover a clearly defined scope in a uniform, proven and widely accepted manner, are open, ready to integrate and available for purchase as ready-made products and platforms. An example would be the SAP ERP. The exact opposite is custom software, developed specifically for a single customer or company with poor integration capabilities.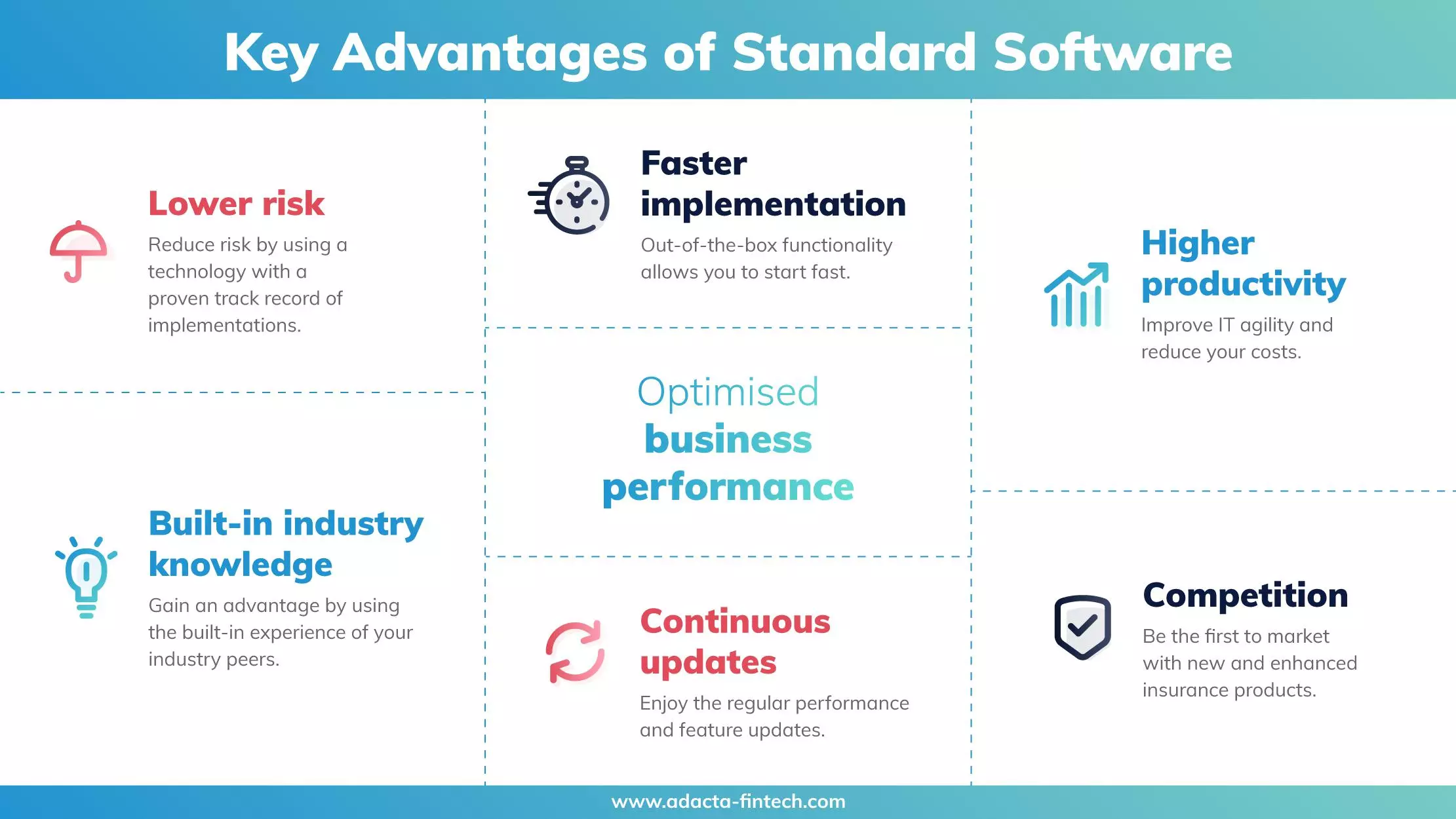 What makes AdInsure insurance platform standard software?
Standardized insurance product specification (the product model)
AdInsure provides a well-defined structure (schema model/data schema/data model) for insurance products. The structure is defined for all lines of business in the same way and includes covered risks, deductibles and limits, which are described in the same way regardless of the insurance product selected.
For all supported lines of business, the platform provides a set of well-defined product-specific data structures, including insured object structure, covered risks, deductibles, limits, etc. Insurance products from all lines of business are represented in the same way.
Standardized insurance business objects
In addition to products, the platform also provides a standardized schema for Contracts, Claims, Recources, Reinsurance Contracts, Payment orders, etc. These objects can be expanded with other — again standardized — components like Policy Holder, Beneficiary, Compliance and others.
Predefined business functionality (the process layer)
AdInsure comes with predefined process workflows for sales, policy management, and claims management, as well as premium calculation libraries and other business rules. Workflow definitions include specific properties for lines of business, roles, and authorizations as well as rules triggering the attention of Underwriting teams. Product specifications and process workflow definitions are provided as JSON and/or JavaScript files.
Standardized configuration methods
All business objects, processes and calculation libraries provided by the platform can be easily adapted to the needs of different insurance companies. The same configuration principles apply across the insurance platform, making its implementation easier.
Standardized extension mechanisms
Standard structures provided by AdInsure are easily extendable to accommodate the specific requirements that are inherent to different insurance companies. The same extension principles apply across the insurance platform, enabling a painless adoption for implementation partners.
Standardized integration interface (the integration layer).
AdInsure provides consistent APIs for business object manipulation, process steering and other configured content. API methods use the same naming convention, leverage the same technology stack and manage transactions consistently. Integration APIs are available out-of-the-box.
Upgrade path
The vendor makes sure that there is always a way to upgrade the core functionality of the platform even if the client modifies the built-in configurations. This way, clients reap the benefits of improvements, enhancements and new features developed by vendors.
Presentation layer
The insurance platform offers standardized ways to configure the UI to fit the specific market, product or user needs. It offers standardized UI components/building blocks for functionalities such as person selection, compliance section, Terms and Conditions component, table of risks components, etc.
This provides users with a standardized way to build product-specific UI forms to reflect the differences in insurance product structures and processes.
Standard, adaptable
AdInsure architecture allows clients a great degree of flexibility. Its standardized functionality can be adapted by clients to suit their business needs perfectly. Even if insurers heavily modify a product or a process, they may jump-start the existing ones and then adjust the processes during operations. What is the major benefit of this? The insurers now have options — they can either choose a standard solution for a really quick implementation or they can opt for something more tailored to their needs. In both cases, they benefit from upgrades and updates.
Ease of change allows insurers to build their own standards, share them within their teams or even groups across borders.
Conclusion
Digitization of processes plays a key part in the transformation of the industry and drives the need to replace legacy IT systems. We believe more insurers will choose standard insurance software solutions over custom-built systems due to many benefits they bring: faster implementation, higher productivity, lower risk using proven technology, built-in industry knowledge and experience, and, finally, the ability to future-proof their solutions through continuous updates.
Article highlits
What is a standard insurance platform?
A standard insurance platform is a technology that's available for purchase as a ready-made platform. It is built on industry best practices and standards rather than customized for a specific client or a company. It has broad integration capabilities and is often the fastest and the least risky way to modernize core insurance systems.
What are the key advantages of standard software?
The key advantages of standards software are lower risk, faster implementation, higher productivity, built-in industry knowledge, continuous updates, speed to market and overall optimised business performance.
How many insurers choose standard over custom software?
According to Mckinsey, 75% of top insurers in North America, CEE, the Nordics and the UK choose standard software for claims and policy administration.