The good news is that it has been done before, so there is an experience out there that insurers can rely on. We will share our experience and highlight what we believe are the best practices for such journeys.
Table of content
The question is, can we improve operational efficiency and the potential for innovation simultaneously?
Multi-country roll-out projects in the Insurance Industry create a new set of considerations not seen in single-country projects. Regardless of whether the key driver behind the project is a more strategic internationalization, modernization of existing legacy technology, digital transformation, or an initiative to modernize customer experience, the same topic will always lead the conversation: the standardization of insurance products (while improving the capability for new innovative products), processes, and the business infrastructure.

And this is for an apparent reason - a standardized infrastructure has a strategic long-term impact and a tremendous operational impact on project deployment timelines, the total cost of implementation, resource roles, and requirements. Other interesting and thoughtful operational conversations are often about project predictability and risk, covering topics such as project governance, implementation methodology, and contracting for an agile approach (all huge topics on their own).
The answers - from configured processes to modern technology
In this post, we will address different areas with different levels of impact on consolidation potential from an operational point of view. As you might guess, there is no silver bullet and, therefore no single answer for a specific case. However, it mostly comes down to a limited number of areas that, if appropriately addressed, can significantly impact consolidation opportunities.

Those areas include:
Standardization of products and processes across different businesses and countries
Selection of the right technology
Program governance
Operational excellence and competence building
Standardization of products and processes (line of business) across different companies and countries
The similarity of the product portfolio and its structure between two or more countries is the most critical factor that can shorten implementation time, lower the project costs and reduce the overall project risk.

Due to legal requirements and differences in size and organization, some countries differ, but our experience shows that we can always find enough similarities. And it is worth doing it - a consolidated portfolio simplifies maintenance and change management, resulting in higher long-term profitability.

The consolidation potential can also be assessed during the project itself, and it is not necessarily part of the strategic consolidation. First, an assessment is performed to identify two countries with leverage potential. Next, an analysis of processes is done in parallel for both countries to identify the true consolidation potential. Once a deep business analysis has been done, and functional specifications are consolidated, the implementation can proceed.

Best practice: For the first project, select a country that can serve as a "role model country" - a country with significant leverage potential. Once it has been deployed, subsequent activities can be done much faster and with lower costs.

Best practice: However important it may be, the consolidation potential should not be the only criteria. It makes sense to consider and select a country that has a good track record of executed projects and stronger internal capacities (IT and business). This surely would increase the chance of having early project success.
Selection of the right technology, modern insurance platforms instead of traditional core systems
The key to leveraging a similar product portfolio and processes is the selection of the technology with features supporting easy configuration of products and processes, including easy product definition and design, ease of change, ease of deployment between different environments, versioning, and last but not least the layering of configurations.

This principle also allows for community-style enhancement of the products and processes. Even though there may be little leverage before the project, there is the opportunity to build international consolidation later on. Even once products are deployed and managed by different processes, each country can constantly improve and contribute to the product and process optimization in other countries.

Best practice: Select a Core platform that is designed around the notion of your uniqueness and consistent change. With our platform AdInsure, the insurance business logic (insurance products, business processes such as policy administration and billing process, base data model, and more) is implemented as a configuration which means that the insurer can implement support for any business line in any number of countries on a single platform. The configuration principle also allows the portfolio and workflows to be duplicated from one country to another as simple as copying and pasting files.

Another important aspect of technology related to cross-country projects is its support for localization. This ranges from features such as "on-the-fly" language change to highly flexible architectures.

Best practice: Select a solution with already implemented local layers and/or solutions with multi-layer architectures: base product layer, configurable country, and company-specific implementation layers.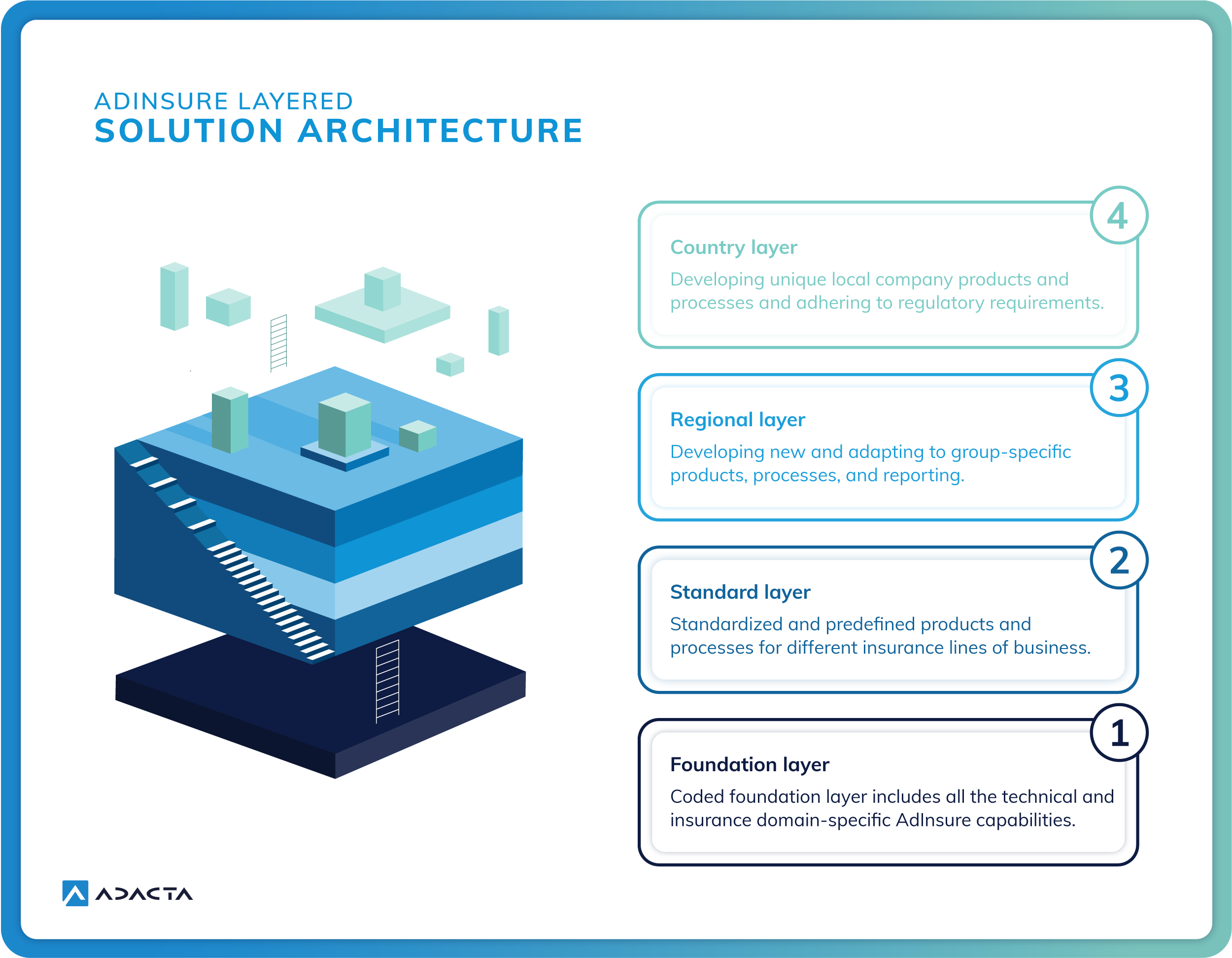 Program governance

If the program is governed by a team that is authorized and tasked with the goal of optimizing processes, and building competencies that can be shared, the likelihood of actually reducing deployment times (shorter training time, shorter product and process design time, deployment models, and more) and reducing costs will get even higher. Similarly, the probability of countries being happy with the results will be increased (read: increased likelihood of the project succeeding).

Best practice: Our experience shows that up to 30% of implementation effort can be saved with an internationally governed optimization program.
Competence centre
Learning is an important part of all repeatable projects, including international solution deployment. The first project will always be an opportunity to learn, and therefore it makes sense to have people and roles available that will remain with the team for not only one country, but several deployments. Apart from product and process consolidation, there is value in building more project and technology-related experiences, such as implementation methodology and product configuration expertise.

Best practice: One good example is the establishment of a competence centre, which handles different aspects of the migration program:
Early assessment and decisions related to portfolio and process consolidation
Building implementation project methodology knowledge and providing support for local implementation teams
Building and sharing technology-related knowledge.
Areas with a mixed-bag of optimization potential
There are no areas that, when addressed properly, cannot be consolidated. However, some areas provide better potential for cost, timeline, and resource optimization than others. Data migration is the single most non-optimizable activity. There are different possible migration strategies that can decrease the scope of data migration, however, data is unique and specific to each particular country and needs to be addressed properly.

Best practice: Consider and implement scenarios that help decrease the scope of migration- avoid migration of short-term policies ie. and migrate only if required, such as when a claim arises.

Since every deployment needs to be tested thoroughly, it is important to properly address automation and tool support for regression testing. However, even if 100% of the products and processes could be leveraged, i.e. if an exact copy of a solution in Country A would run in Country B, the infrastructure will certainly not be the same, nor the migrated data or local integration. Final user acceptance testing can take from one to three months in total. Best practice: Implement a common regression testing program with the goal of leveraging testing scenarios, testing tools, and process automation across countries.

Local integration needs to be performed separately for each country as regulations and other business requirements demand.

Best practice: Where possible implement integration layers that can be leveraged across countries, such as a layer for integrating with a common back-end general ledger system. Let us end the article with something that is not consolidation and optimization-focused. At the end of such a multi-year project and during it, it is important to achieve some quick wins, it is important to make our business users happy.

Candy practice: Add some non-core functionality with the goal to provide quicker business value. Consider adding BI to provide insight and decision-making capabilities to key business users. Start with key sales data to get an overview of sales performance in insights, such as analysis of non-renewed policies. Successful BI implementations have much higher satisfaction rates than transformational core projects - people like data.